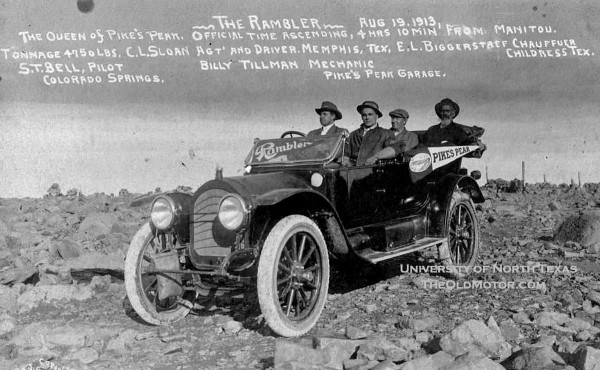 The well known Pikes Peak Highway toll road opened in 1915 after being constructed by Spencer Penrose. In earlier times, the Pikes Peak Carriage Road, dating from 1888,was the only route to the top for wheeled vehicles. On August 12th, 1901  a Locomobile Steamer driven by C. A. Yont and W. B. Feller became the first automobile to reach the summit.
Our feature photo (above) from August 19, 1913 shows the driver, C. L. Sloan, a Rambler agent from Memphis, Texas, and three assistants in what  appears to be a 1913 Rambler after their ascent to the summit. The time listed on the photo is four hours and ten minutes. We were unable to find times for any other cars that climbed the Carriage Road for comparison. Times recorded for wagons and carriages were in the five through six hour range, so perhaps this was a publicity stunt staged by Sloan to help with his sales.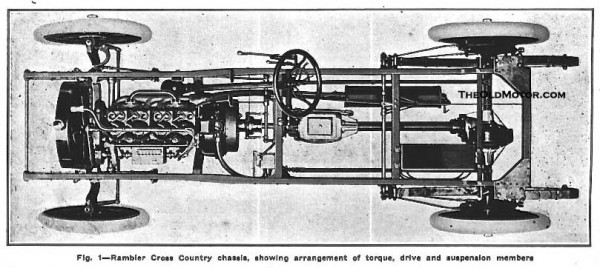 Plan view (above) of the 1913 Rambler Cross Country chassis from an article on the car in the November 21 1912 issue of The Automobile. The balance of the interesting article can be found below in four parts.
The famous Pikes Peak Hill Climb competition commenced in 1916 to help promote the new toll road. The full history of  Pikes Peak  can be found here. You can also take a look back at earlier Pikes Peak coverage here on The Old Motor.
1913 was the last year of early Rambler production. It was then replaced by the Jeffery in 1914. The Rambler name plate was not used again until 1950. Photo (top) by J. G. Hiestand courtesy of  The University of North Texas Libraries.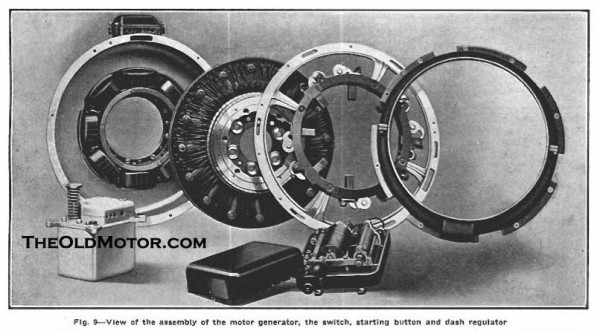 Illustrated above is the very interesting USL  flywheel starter-generator as fully described in an article from the November 21, 1912 issue of The Automobile (below). In practice, starting a car with the USL system  is unusual, as very little noise can be detected during it's use.