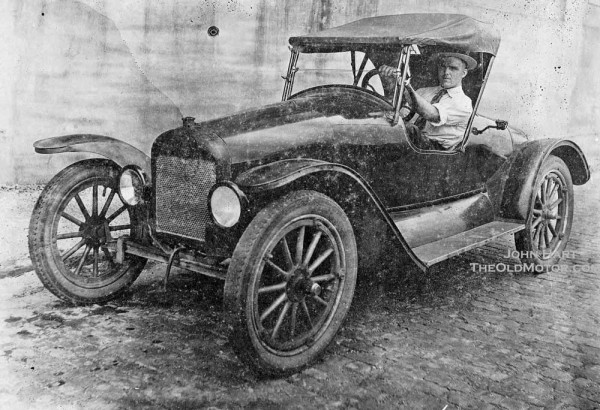 This represents only one of the thousands of Model "T" Ford Speedsters built across the land by young men and women back in the 1910's and 1920's when they were quite popular. A used Model 'T" chassis could be purchased quite cheaply at the time and rebuilt quickly into a special as we see here. This Ford, in addition to having what appears to be an aftermarket factory built body, is also lowered with underslinging brackets.
The (top) photo is courtesy of  John Hart and his explanation of it follows: "This is a photo of my grandfather taken in 1923. He is sitting in his "hot rod", a 1914 Ford with a special body. My father recalled riding in the car in 1930 as a child. He once told me that my grandfather wouldn't drive the car in the winter. He would take the engine apart every autumn and store the parts, soaking them in oil. He would then reassemble it in the spring!" 
L to R (above); Haywood underslinging brackets that lowered a Ford using the same principles as used on the car in the feature photo, a Roof  (also called Laurel) advertisement from one of the larger and earliest companies to get into this line of equipment, and an early article by Ford writer Murray Fahnestock dating from 1917.
This is the third in a continuing series here on The Old Motor covering  Model "T" Ford racing and accessory parts (scroll down).