Amongst our favorite subjects here at The Old Motor are the endurance runs made in the earlier days of motoring. Whether on a race track, dry lake or public road, the effort it took to perform such feats cannot be fully appreciated by anyone who hasn't spent time behind the wheel of an older car. One of the best known names in the very small fraternity of drivers who have set these records is, of course,"Ab" Jenkins.
In 1927, Rome, New York millionaire Samuel B. Stevens, himself an auto pioneer and pre-war racing veteran, issued a challenge to any man who could average a mile a minute or better for 24 hours in a production car at the famed Indianapolis Motor Speedway. Stutz and Marmon had succeeded in doing so in 1927 and 1931, respectively. Jenkins took up the challenge and is seen above (center) posed with the 1937 Cord in which he began the run on June 22, 1937.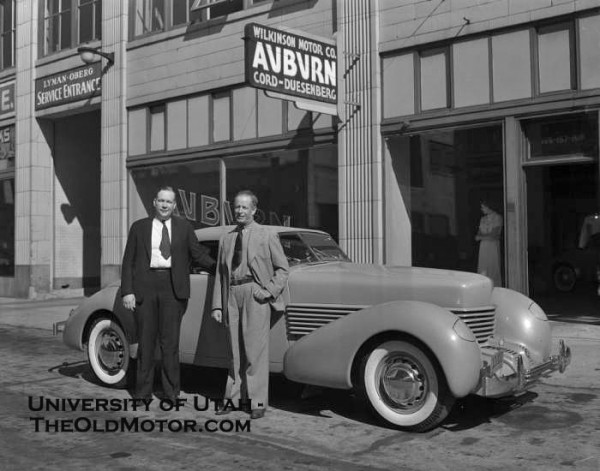 Jenkins posing with a representative of the Wilkinson Motor Co. of Salt Lake City, Utah, earlier in September of 1936. Photo courtesy of the University of Utah.
But he did not complete that epic drive in the same car. Although he lost his right front wheel on the front straight at almost 90 miles per hour, Jenkins was able to bring it to a safe stop without hitting the wall. He quickly switched to a backup car to complete the event, averaging 79.57 miles per hour for the entire distance, including stops for  fuel oil and tires. However, his heroics did not help Cord sales and production of the distinctive car ceased less than seven weeks later.
The trophy was retired in 1954 after Tony Bettenhausen, Pat O'Connor and Bill Taylor collaborated to raise the mark to 89.89 miles per hour in a Chrysler. Ford made an unsuccessful attempt in 1956 and became the fifth and last team to accept Stevens' challenge, almost thirty years after it was first issued. You can read more about "Ab" Jenkins long record breaking career in some earlier posts on The Old Motor.