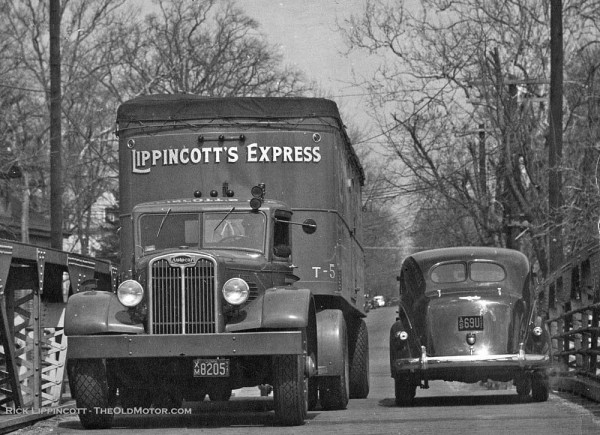 Our recent stretch of humid summer weather got us thinking about the conditions that over-the-road truckers had to deal with in the days before they had big diesel engines, air conditioned cabs, multi-media entertainment centers in the sleeper and long stretches of interstate highway between cities. Case in point is the good looking Lippincott Autocar Model "C" sharing a narrow bridge with a 1937 Dodge sedan in our first photo today. The 1940 New Jersey license plate on the tractor gives us a pretty good idea when the shot was taken.
In those days, Lippincott's service area extended from New York to Delaware. This was the era when trucking companies all over the country were trying very seriously to compete with the railroads but were hard pressed to match train speeds between major cities. They had to contend with two lane highways that passed through every little hamlet along the way. Where they gained some advantage was by being able to provide more direct service point to point.
The burgeoning market for semi-trailers and truck bodies that resulted from this competition helped coachbuilder Fitz Gibbon & Crisp expand their business even through the worst years of the Great Depression. Both they and Lippincott got their start in the mid-19th century not very far from each other; Lippincott in Philadelphia, Pennsylvania and FG & C in Trenton, New Jersey. As early as 1930, FG & C provided six insulated aluminum truck bodies to the New Jersey Dairymen's League. Not long after that, they developed a new dry ice refrigerator body that would prove very popular with grocers and dairymen (center thumbnail, above).
In 1936, the Budd Company received an order from the Nairn Transport Company, Ltd, of Damascus, Syria for two stainless steel bus trailers built on the same principle and the firm's streamlined, lightweight railroad cars for use across the vast desert sands between Damascus and Baghdad, Iraq (left and right thumbnails, above). Budd contracted with Fitz Gibbon & Crisp to build the interiors and install the air conditioning systems designed designed by the Carrier Corporation specifically for these luxury coaches. This was the first recorded use of such a cooling system of this type in a motor coach.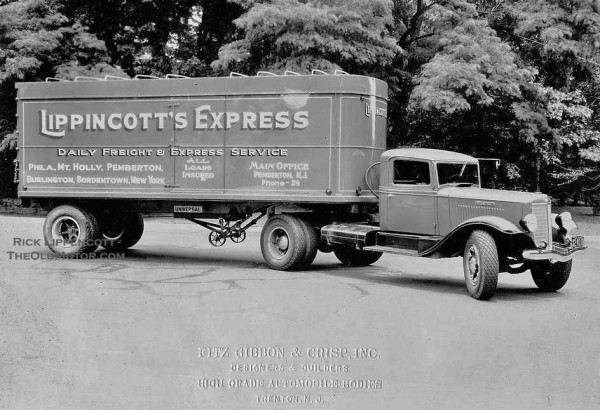 Above, a Lippincott heavyweight International Model "C" tractor from the mid-1930's towing an open top box trailer built by Fitz Gibbon & Crisp.
FG & C's long experience with insulation materials and refrigeration units for truck bodies no doubt contributed to Budd's choice. Drivers for domestic common carriers like Lippincott would have to wait many more years before they could experience such cool conditions during their long hours behind the wheel. Lippincott's Express truck photos courtesy of Rick Lippincott.