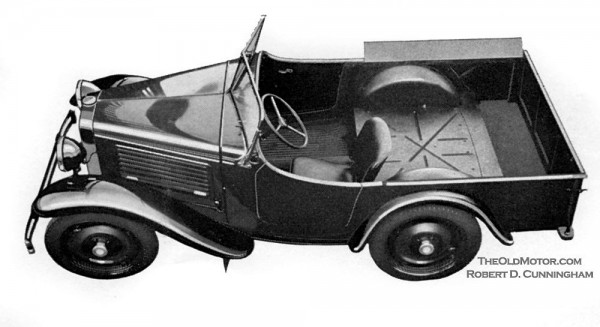 By Robert D. Cunningham
By 1932, output of cars and trucks at the American Austin Car Company, in Butler, Pennsylvania, had reached 100 per day, a number that far outpaced demand. For a full year, new vehicles piled up in steel buildings near the loading dock as Depression-beaten distributors struggled to sell inventory. The corporation was forced into receivership. Production was shut down.
Sensing a bargain, the world's largest used car dealer, Roy S. Evans, purchased 1,500 unsold Austins and shipped them south, where he sold them through his extensive network for just $285 each and making American Austin the number three best-seller. After depleting the supply, Evans purchased all remaining Austin parts from the suppliers' warehouses and assembled additional cars, some of which were creative new models.
A handful of 1,050-pound roadster-pickups (top photo) were created by replacing the roadster decks with shallow, steel pickup beds mounted behind bucket seats. The United States Army tested a roadster-pickup as a small field car but placed no orders. Another creation, the Four Seater Coach, was assembled for the New York Auto Show to test public response to a four-passenger Austin. It actually consisted of American Austin front and rear sheet metal pinned to an English Austin Seven "Ruby" chassis and cowl. The Coupe Suburban featured bucket seats up front and a small, child-size bench in the rear. The Austin Bantam Van (left above) weighed in at a hefty 1,300 pounds with a tall, wide cargo body that enveloped the rear wheels and a drop bottom. An enclosed pick-up (right above) replaced the open one, and the Pony Express pickup featured top bows and a canvass tarp over the bed.
For more than two years, all new Austins were built for and purchased by Roy Evans. But Evans had fronted the production money at an annual interest rate of 130 percent, which left the firm unable to finance its future. On June 29, 1934, the American Austin Car Company filed for bankruptcy protection. Production ended in December with fewer than 20,000 vehicles built over nearly five years.
With financing from Argentinian entrepreneur, Martin Tow, Evans convinced the courts to sell him the entire American Austin Car Company for just $5,000. Nearly all debts were forgiven in hopes that Evans' new American Bantam Car Company would keep the boys in Butler employed.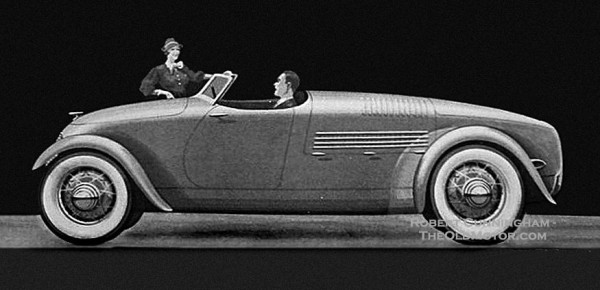 Evans solicited help from noted stylist, Thomas L. Hibbard, and infamous racing engineer, Harry A. Miller. Hibbard had recently parted company with General Motors to partner with Miller in an effort to develop the ill-fated Miller-Ford race car into an exciting new street-legal sports roadster. Miller wanted to power the car with a blown Miller 91 eight-cylinder engine, but the team didn't have enough cash between them to finance a prototype. So to raise cash, they accepted Evans' invitation to become American Bantam's vice-presidents in charge of design and engineering.
At Bantam, Miller revamped the old American Austin engine and manifold system. Hibbard redesigned the tired Austin bodies, although his 1937 Bantam designs differed only slightly from the Austin group. Hood side panels retained a row of stamped louvers. Fenders followed the same line as the Austin with deeper skirting. Stamped artillery wheels and a new grille and bumpers were added, but Austin ancestry was evident. Frankly, the new Bantam proposals resembled miniature General Motors products of 1933.
Nevertheless, an eager town and an anxious body of stockholders required tangible results from their investments. So Evans released a prospectus with a sales booklet, illustrated with black ink renderings of Hibbard's proposals. Evans promised a pickup, panel truck, roadster, custom roadster, and three coupes, one of which was fitted with a bustle-back trunk.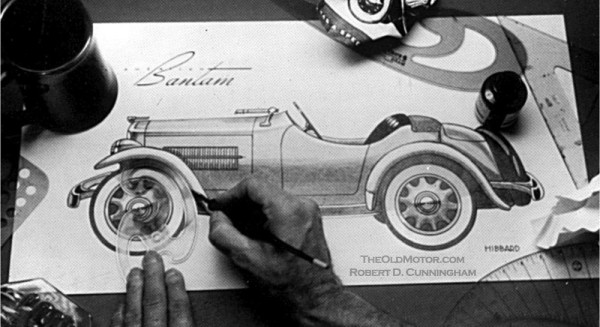 The most enticing of the bunch was the Bantam Custom Roadster, "America's smartest speedster". Slim, cycle-type front fenders, a built-on trunk, snap-down boot to hide the collapsible top, and a folding windshield were all featured on the proposal. Miller envisioned a 71.3 cubic-inch, single-overhead- cam, 4-cylinder engine of an astounding 75hp when equipped with the optional supercharger. Speeds of up to 100 miles per hour would have been easy in a Bantam Custom Roadster, built to order.
When tooling estimates were presented, Evans flew into a rage and fired the pair. A half completed pickup prototype was abandoned (but completed by a truck collector in the 1990s). Tom Hibbard eventually became head of styling for Ford Motor Company and worked effectively there for several years. Harry Miller stayed around for a while and rented space from Bantam to develop a small, four-wheel-drive racer for an old friend, Ira Vail, and ran it around the Bantam plant. As payment for the space he occupied, Miller redesigned the old Austin manifold system for use on the new Bantams. When that work was completed, he moved down to Pittsburgh where he created a series of sensational front-wheel-drive Gulf-Miller race cars at Gulf Oil Company's.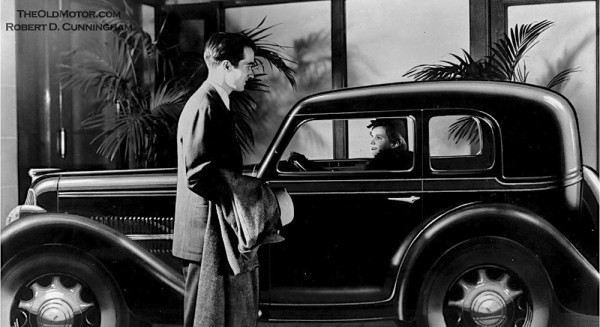 Without the two most prominent figures at Bantam's helm, Roy Evans turned to Count Alexis deSahknoffsky, the man who had designed the original American Austin. For a paltry sum of $300, the master designer returned renderings of what some have called the cutest production cars ever built—the all-new American Bantam line for 1938. You can look back at Parts I and II on the American Austin story here and forward to Part IV on The Old Motor. You can also see many other interesting American Austin Bantam photos here on The Old Motor.