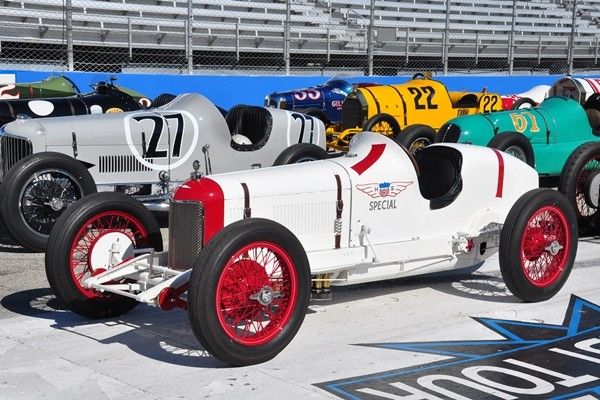 This is a guest post by Bill McGuire of Mac's Motor City Garage, who was able to attend the 2013 Millers at Milwaukee Meet, held recently on the famous Milwaukee Mile Speedway on the weekend of July 12-13. We are presenting some of the pre war cars here, but at MCG you can see much more along with photos of some sensational post war racing cars, just follow the link at the end of of the post below. Bill McGuire's words follow here:
"While MCG was able to attend only the first day of the two-day event, we're confident in declaring another great year for Millers at Milwaukee. As the oldest (1903) operating race track in America, the historic one-mile State Fair Park oval is the perfect venue for a show featuring vintage oval track racers. The weather was perfect, and the capable Harry Miller Club keeps the event running like a well-oiled machine.
Here's a photo essay from day one of the 19th annual Millers at Milwaukee meet at the historic Milwaukee Mile". 
1923 Miller 122-Dan Davis, 1935 Miller Ford-Tom Malloy, 1920 Miller TNT-Dan Davis.
1920 Durant Miller-Terry Castle, 1912 Cutting-Eldon Eby, 1913 Mercer-Ted Davis.
1932 Martz Special-Mike Bauman, 1933 Ford Fred Frame racer, 1936 Sparks Thorne Big Six-Dana Mecum.
1932 Snowberger Hupp Comet-Greg Orzanian, 1935 Bagley Cragar Special-Patrick Phinny, 1932 Chrysler Riverside Special-Eric Andersen.
1933 Gilmore Special Sparks-Weirick/Dana Mecum, 1926 Miller 91-Tom Barbour, 1938 Miller Front Wheel Drive-William Miller. 
"Above we slipped in a ringer. One Miller race car wasn't to be found on the race program, and it never ventured onto the race track. Nevertheless, it was the hit of the show in the race paddock on Friday morning. Bob Manhart spent 12 years building his stunning miniature Miller 91 rear-drive racer, while Dana Mecum describes himself as co-owner.  It's pedal-car sized, but it's no toy: the racer is powered by an equally tiny and exquisite four-cylinder engine".
Learn and see much more at Mac's Motor City Garage in  Post I  and  Post II. You can also find a great deal of information about the cars that Harry Miller built and the history behind them at and at the Harry Miller Club and  The Miller/Offenhauser  Historical Society. You can also learn about the 110 year long history of the Milwaukee Mile here.