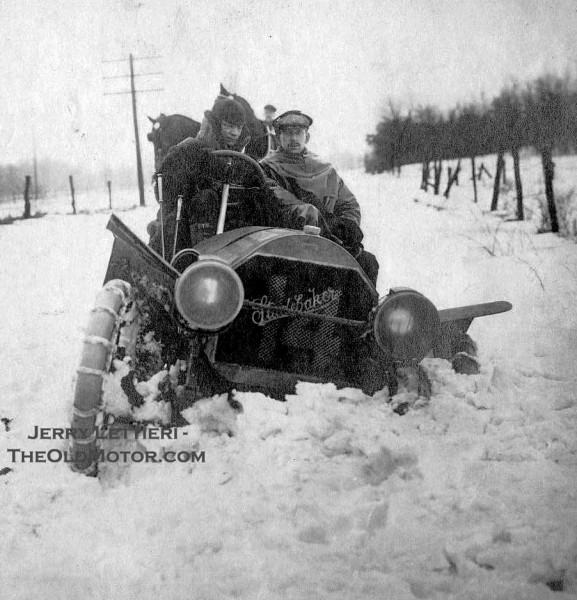 *Update*  Thanks to Robert Rampton we now know all of the details behind the Studebaker press photos in this post. A front page article in the Los Angeles Herald, March 8, 1908 issue of the newspaper, used the same photos seen here with their story, which can be seen (just below) . Studebaker followed the event with this car, leaving six days after the official start and beat all of the New York to Paris competitors to Levenworth, Kansas.
The caption that accompanied our photos of this snowbound Studebaker describe the scene as being "on the road near South Bend, Indiana during a race from New York to Chicago in February, 1908".  But we've been unable to find any record of a competition between those two cities taking place at that time and wondered if perhaps the event in question was the legendary 1908 New York to Paris, the first leg of which coincided with the date of our images.
Left and right thumbnails (above) show an article from The Horseless Age of March 27, 1907 that describes some of the mechanical features of 1907 Studebakers.
And while the number on the radiator indicates to us that this car had been in some sort of competition, no Studebaker participated in that around-the-world epic. Some drivers not officially entered in the race did accompany the competitors at various points along the way and we thought that might be the case here. So we will leave it to you, our readers, to answer the question of what exactly you believe these frozen frontiersmen were doing out there stuck in that snowbank so very long ago. Full details on the 1908 NY to Paris Race. Photo courtesy of Jerry Lettieri.