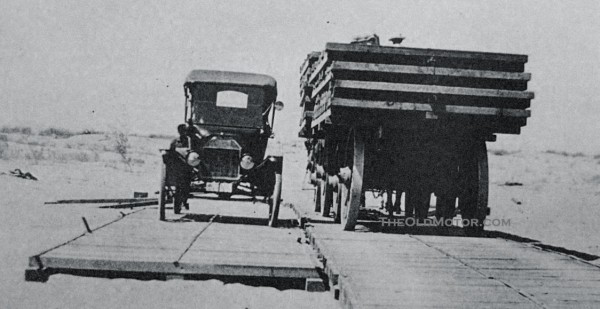 A photo from the September, 1917 edition of The Automobile,  showing new sections of the roadway being hauled by mule power.
No, it's not a view of the Sahara Desert in our first photo today, but a scene from the construction of the plank road that would eventually connect the farming communities of  Holtville, El Centro, Brawley, Imperial, and Calexico, California with San Diego. The first of these hardwood highways extended eastward to Yuma, Arizona and was built to provide a dependable conduit to bring supplies to the increasing number of farmers moving into the Imperial Valley and to allow shipment of their products east.
L to R, below: Hauling sections of the road. A canopy protects workman from the blazing sun as they lower sections into place and cars on the completed roadway. Photos from California Highways by Ben Blow, 1920.
Begun on September 19, 1912 and completed in three weeks time, it must have been sweltering work. Sections of road surface were pre-assembled in sections 8 feet wide and 12 feet long weighing 1,500 pounds each. These were loaded on mule drawn wagons, taken to the work site, lowered into place with crude cranes and bolted into place, as can be seen in the first two thumbnails, above.
Although splintered boards and drifting sand provided endless maintenance headaches, the basic idea worked well enough and a second road to the west that terminated in San Diego was constructed in following years. It's that highway that is depicted here. Sections of modern Interstate 8 parallel it's route today. You can find many earlier posts about the "Golden State's" rich automotive history on The Old Motor.
Grays Wells Service Station beside the Plank Road in California, courtesy of  The Henry Ford.