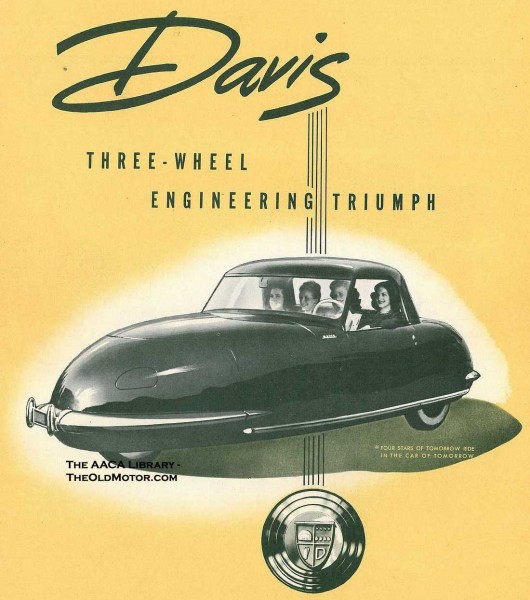 By: Gene Herman:  When successful car salesman Glenn Gordon Davis saw the "Californian", a Ford V-8 "60"powered three wheeler designed by race car builder Frank Kurtis for millionaire sportsman Joel Thorne in 1941, he was so impressed that he eventually acquired it in 1945. It inspired him to design and produce a larger version and join the makers of such cars as Keller, King Midget, Playboy, Crosley and Tucker to try to get a piece of the booming postwar market. By one count, seventeen of these unconventional seven passenger coupés were built between 1947 and 1949. He called the result the Davis Divan and we present it here today.
L to R, (below) : Promotional material gives you a good idea of the size of Davis' dream car. Schematic shows removable hardtop and aircraft-type front suspension. A station wagon was considered, but never got off the drawing board. A pickup was also contemplated.

The prototype was powered by a front mounted forty-seven horsepower Hercules flathead four cylinder engine coupled to a Borg-Warner three speed transmission while later examples used a similar Continental four with slightly more power. It's aerodynamic shape and lightweight aluminum body lend some credibility to the claims of 35 to 50 miles per gallon and top speed of nearly 100 miles per hour in the original sales literature. Other unusual features include retractable headlight doors and built-in jacks at each wheel that employed military surplus hydraulic cylinders.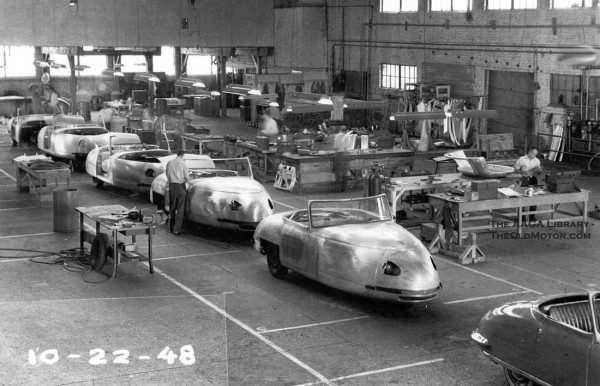 Above, a view of cars being assembled at the factory in Van Nuys, California.
Davis' design rivaled that of Preston Tucker for "outside the box" thinking. What he also shared with the better known Tucker were legal troubles that eventually brought his fledgling company down. But while Preston Tucker was cleared of all charges, Davis was convicted of twenty counts of theft and sentenced to eight months to two years in jail. A wealth of information about these very unusual cars and their history can be found at the Davis Registry. You can see the Kurtis-built "Californian", here. Photos courtesy of the AACA Library.