To kick-start our "Automobile For Sale" pages and to show you what we have in mind for the future here on The Old Motor, we will be presenting four or five lots from the upcoming Gooding & Company Pebble Beach Auction that will take place on August 17th and 18th, 2013. Pictured here and also live in a very special video (below) is one of the stars of the sale, a 1929 Bentley Speed Six Grafton Coupe with coachwork by Freestone & Webb. See it in action in the video and learn much more about it at Gooding & Company.
1920 Locomobile Model 48 Sportif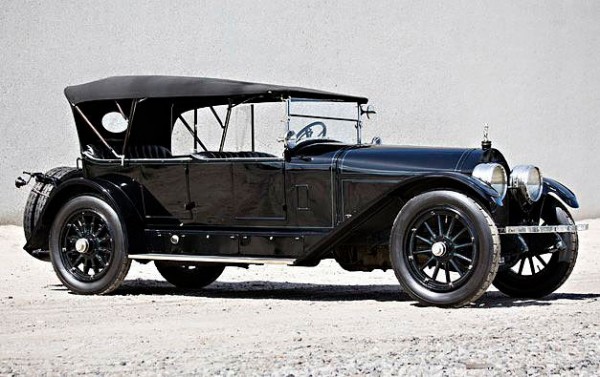 Also offered by Gooding & Company is this fine Locomobile. The firm's definitive Model 48 debuted in 1911 and was rivaled only by Pierce-Arrow's own Model 48 in it's earlier years. It was America's most expensive automobile until the advent of the Springfield-built Rolls-Royce in 1921.
The styling innovation for the Type Sportif came from the pen of Frank de Causse who was enticed from French coach builder Keller et Fils in 1914 to head Locomobile's in-house styling department. Locomobile was the first automaker to set up an innovative design operation of this sort, which in turn designed exclusive and very distinctive offerings for the maker.
   CAR HIGHLIGHTS:
    Known History Dating to 1940 with D. Cameron Peck.
    Owned for Nearly 60 Years by Lindley Bothwell and Family.
    Used as Charlie Chaplin's Car in the 1992 Robert Downey Jr. Film Chaplin.
   Wonderfully Preserved and in Mostly Original Condition.
     TECHNICAL SPECIFICATIONS:
      Superior Materials, Mechanicals, and Build Quality.
      525 C.I.D. "T"-Head Inline 6-Cylinder Engine, 95 B.H.P.
      Single Ball & Ball Updraft Carburetor.
      4-Speed Selective Sliding Gearbox.
      Solid Front Axle with Semi-Elliptical Leaf Springs.
      Live Rear Axle with Three-Quarter-Elliptical Leaf Springs.
      Rear Mechanical Drum Brakes.
Visit with  Gooding & Company to see the other lots in the sale at Pebble Beach and for more details of the Locomobile. All of these offerings will also be shown on our new Automobiles For Sale Page, which you can access from the ad on the left of any page or from the link in the header at the top of the page. To see what we plan to offer on the Automobile For Sale pages in the future click here.