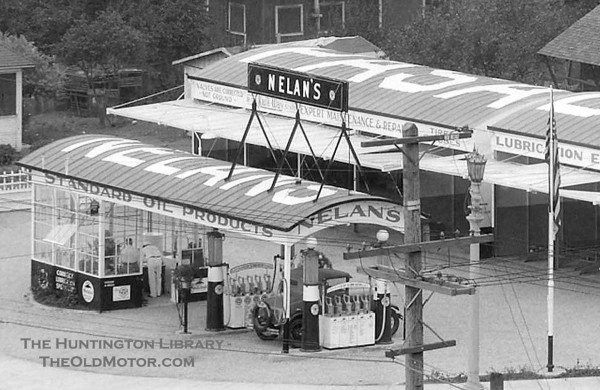 This clean-looking service station with a graceful arched-roof was located in Pasadena, California, at 79 South Vernon St. The architecture of the filling station portion of the enterprise appears to be of the same type as seen used with other Standard Oil Stations of the time and it may have been the company's signature design of the period.
A Model "A" Ford is parked under the canopy over the two service islands and each of them contained two visible glass-cylinder hand-pump style gasoline pumps with a bank of oil dispensers located in between them. Behind the station can be seen a long full service repair garage contained in two separate buildings. Note Nealan's name painted on the roof of the station and Pasadena on the garage, both advertising to the airplane traffic which was becoming increasingly important at the time.
The photo is dated 1928 and was taken by Harold A. Parker and it is courtesy of the Huntington Library that has identified it as being a Velano Service Station. Possibly the reason for the photo having been taken was because it for sale at the time. Many more interesting service station photos can be found here on The Old Motor.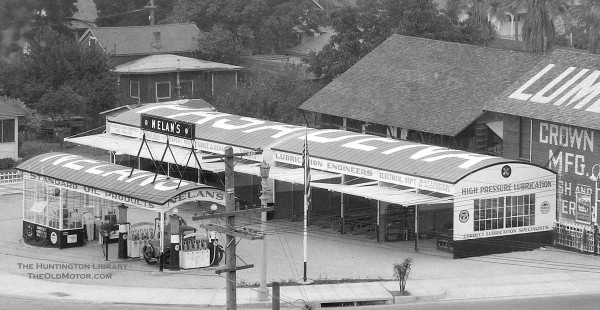 In addition to the general repair, the signage on the building stated that valve jobs were done using Kwik-Way equipment. After having been started way back in 1920, the engine rebuilding equipment manufacturer is still in business today and was one of the first to introduce modern valve and seat refacing equipment.
Two early Kwik-Way machines can be seen here, one of the early valve grinding machines (1921) and a piston finishing machine (1934) used for custom sizing of pistons and other operations during engine rebuilding.