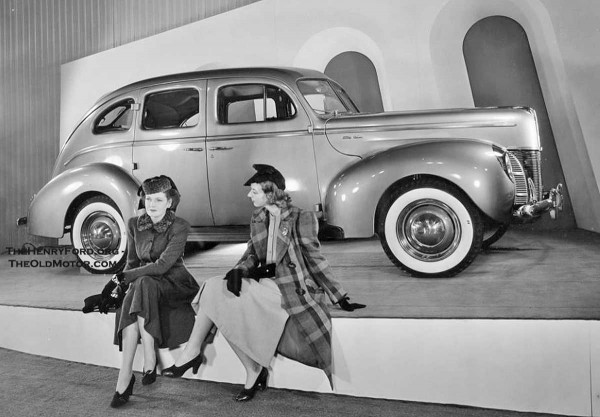 The clean styling of Ford's 1940 offerings was one factor that drove sales to more than five hundred thousand units, a jump of more than fifty percent over the previous year. Part of this popularity could no doubt had be attributed to Eugene "Bob" Gregorie's influence on the stylists who penned this design while he was chief of Ford's design department, a post that he held from 1935 to 1943. It was a freshening up of a styling concept first introduced in 1939 by the addition of a new front end design. Sealed beam headlights were offered for the first time by the automaker on the 1940 model. Aside from being a major safety improvement, their design contributed considerably to the new look.
The interior was also redone with a new dashboard, a column shifter that Ford called the "Finger-Tip Gearshift" and other improvements in passenger comfort. The chassis which got revised springing and shock absorbers and was powered by the 85 horsepower V-8 in the DeLuxe models. Seen here on the assembly line and in finished form, it's appeal is still clear today.
In the first thumbnail, you can see a rare Sedan Delivery in the background, one of only 5,325 built in 1940. In the center it appears that the bodies have just emerged from the paint booth and in the right hand photo a radio is being fitted. Below, finished cars are receiving final inspection and cleanup, prior to shipping. Note the covering on the front bumper of the car in the foreground used to protect the chrome while the car was in transit.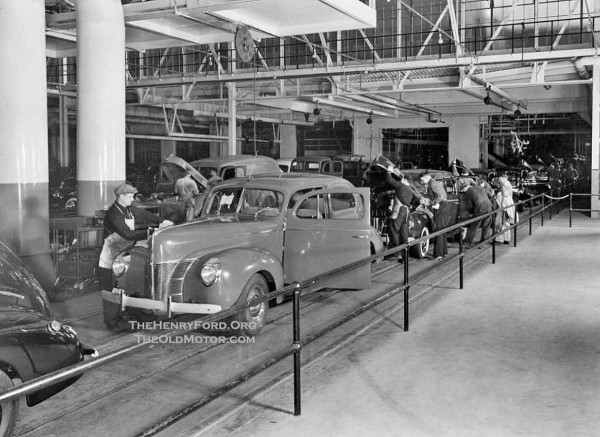 This iconic design has proved so popular with restorers and hot rodders alike in the ensuing decades that Ford Motor Company saw fit to authorize and license the manufacture of complete reproduction bodies of the coupe a little less than a year ago. You can see a short video about the below and learn more about them at Dennis Carpenter Ford Parts. 
Friends and fans of the flathead V-8 can be found at The Early Ford V-8 Club of America. Today's photos courtesy of The Henry Ford.