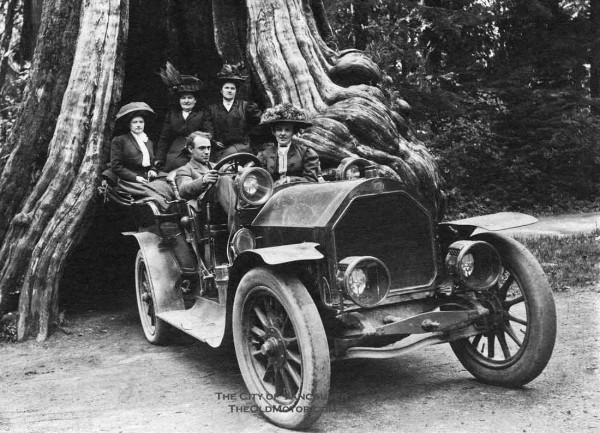 *Updated* Ariejan Bos from Holland replied within a hour or so of posting this mystery: This car must be a 1908 Darracq double phaeton. On the radiator badge of the second photo you can vaguely see the intertwisted double D.
Robert Troendly who owns a 1908 Darracq added the following: "This is a 1907 Darracq, the 1908 has a different Radiator. The shaft for cranking it was extended so they could put a longer crank handle on it for easier starting. This car has 458 c.i. six cylinder motor. The transmission is a sliding gear unit with four speeds".
Read both of their comments to learn more and we have also posted another photo below of a close-up of the front of the car for further study.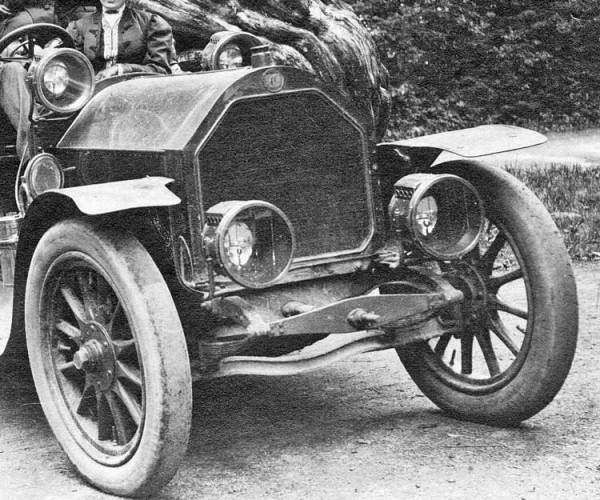 The setting for this pair of images is Stanley Park in the city of Vancouver, B.C., Canada, in front of what at the time was called appropriately enough, The Hollow Tree, the scene of many photographs taken in the park at the time . The gent behind the wheel who owned and operated this sightseeing car is Harry Hooper and the women out enjoying the day are May Morgan, Mrs. J.C. Morgan, Mrs. Hockin, and Flo Hockin,. All attired quite smartly with very interesting hats, as was the fashion at the time.
What we do not know is the maker of the fine looking and impressive touring car. It may not be of American or Canadian manufacture and since many of the cars at that time in Canada were imported from England it maybe from there. But that is where all of you, our knowledgeable readers, come in. We are asking you to once again to help us solve this mystery.
So put on your thinking caps, go to work and let us know who you think the maker of this car was and we will give you 24 hours before we post any of the replies. Note the extra pair of acetylene gas lamps on the fire wall and the unusual starting crank extension. Photo courtesy of the City of Vancouver.