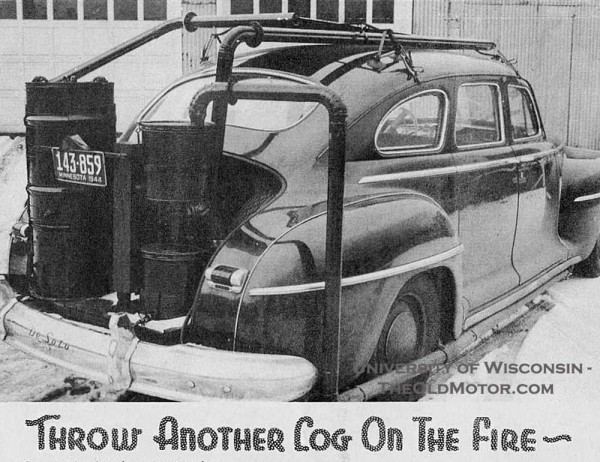 As gas prices continue to rise these days, there is much talk about alternative fuels for our motor vehicles, but this is hardly the first time that the subject has come up. The ungainly looking device attached to the 1942 DeSoto in our feature photo today is a wood gas or producer gas generator. It's purpose was to provide a practical substitute for increasingly scarce gasoline during the Second World War.
To those unfamiliar with it's operation, what follows is a highly simplified description of the process. Organic material (wood or charcoal) was heated to a temperature of 2,550° F (1,400° C) in the trunk mounted unit until a combustible gas full of hydrocarbons was released. The source material was not burned. This gas was then cooled and filtered before being sent through the carburetor and hence into the engine.

But before you make plans to install one on your car, you should note that there were decided disadvantages to the process. These things required up to ten minutes to get up to working temperature, so it was no turnkey affair. The fuel rendered had a lower BTU content by volume than gasoline that resulted in 35 to 50 percent less power. And because it burned more slowly than gasoline, high revs were impossible. A vehicle powered by producer gas was not a sports car. Grates in the generator had to be cleaned and downstream filters changed at frequent intervals. And, of course, there's the cutting, splitting and loading of the wood.
But in the absence of any other available fuel, it made sense. Altogether, more than one million non-military vehicles were converted to run on producer gas worldwide during the war, about half of which were in Germany. Critical mobility was maintained, albeit at a much slower pace. "The Zenith", where the article from February 4, 1944 originally appeared, was a shipbuilding industry newsletter. You can read about these devices in more detail in Low-Tech Magazine. Photo courtesy of the University of Wisconsin Library.