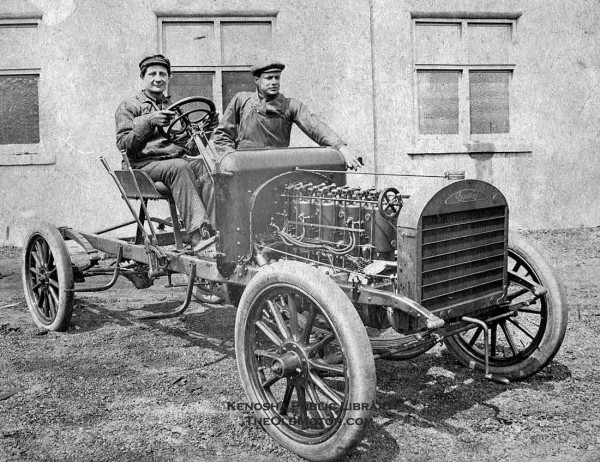 The Rambler was a popular early car built by Thomas B. Jeffery. The chassis pictured in this photo is one of the first overhead valve four-cylinder units to be made by the company in 1906. It appears that the gentlemen posing here with it may have been part of the road testing team, as it was common practice at the time for many factories to road test every unit. The excellent article in Motor just below, appears to identify this chassis as a shaft drive Model 14, the medium-sized offering of five different models produced that year.
Full details of the 1906 car and the Model 14 and 15  fours in the April, 1906 Motor magazine.
Note the "well known Rambler throttle-wheel" under the steering wheel, as described in the Motor text above. Other visible details are the pushrod and rocker arm actuated overhead valves, a belt-driven shaft and pulley for the dash-mounted McCord mechanical oiler, and thick high tension cables from the coil box to the spark plugs. The photo is courtesy of the University of Wisconsin Library. You can also find many more interesting Rambler photos and information here on The Old Motor.