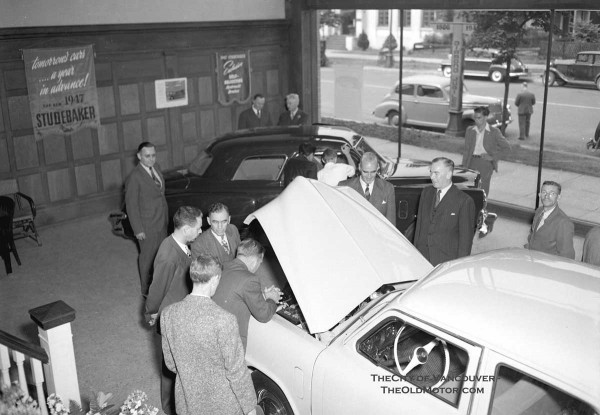 The banner on the wall reads "Tomorrow's Car's A Year in Advance" and the 1947 Studebakers sure looked different from anything Detroit had to offer that year. It's easy to see how unconventional these cars appeared by comparing them to everything else parked on the street in the background of both photos. While Ford, GM and Chrysler were still selling rehashes of their 1941 models to a car hungry public, Studebaker's new model drew a large and curious crowd to the J.M. Brown showroom in Vancouver, B.C., Canada on July 4, 1946
Virgil Exner, Sr., who had been working in Raymond Loewy's studio since 1938  and would later achieve fame as the chief architect of Chrysler's "Forward Look", was largely responsible for the design but Loewy and his company took all the credit. Preston Tucker's radical looking car was still more than a year away and General Motors new ground breaking 1949 designs were two years out when these photos were taken.
There are many other Studebaker related posts here on The Old Motor. One of the most active single make clubs in the country is the Studebaker Driver's Club. Photos by Don Coltman courtesy of the City of Vancouver.