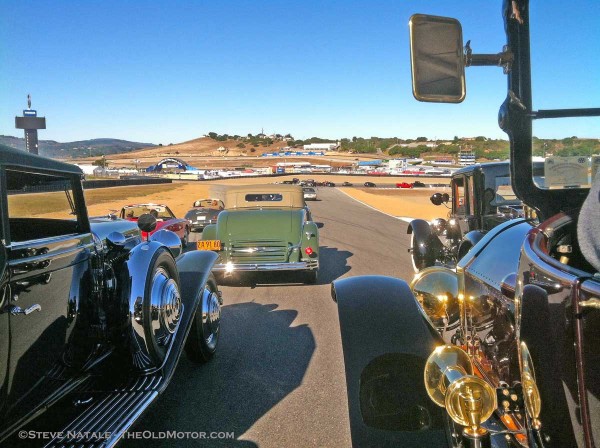 The Pebble Beach Tour d'Elegance was held yesterday and the 100 plus cars on it ended up on one of the most amazing race tracks in the country, Laguna Seca, where the Rolex Monterey Motorsports Reunion is also being held this week. Steve Natale was there and reports: "I had an amazing day and rode with Johnny Crowell in the 1914 Simplex. This year the tour included a lap around Laguna Seca! Plus we had awesome weather to boot". Look for more photos of the tour and the Pebble Concours d'Elegance from Steve which will be here posted next week.
On the left is a Model J Duesenberg, a green Lincoln convertible coupe is in the middle and on the right in front of the Simplex is a Duesenberg Coupe, the very first Model "A" Duesenberg sold to public. You can learn more about it and the restoration of this unique car at Bruce Canepa's Scotts Valley, California shop.  More photos and a great video of the car can be found in an excellent article at the New York Times. According to marque expert Randy Ema: "It is only one that is still in the family of the original owners". You can also see the same Model A Duesenberg with Bender coachwork when it was new here on The Old Motor.
Last year, we were able to participate in the Concours and drive on the tour down the coast on the Cabrillo Highway to Big Sur and then back to Carmel for lunch. Take a look back to 2012 in this video below to see just how special the tour is. Make your plans now so that you can attend next year. Learn a bit more here.