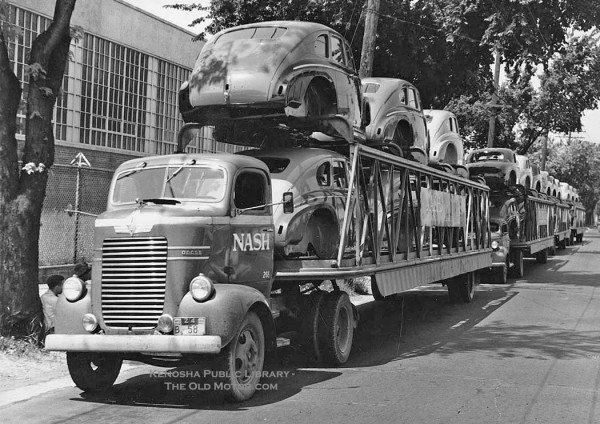 When they think of an automobile factory, many people not in the business envision a gigantic facility where raw materials enter at one end and finished cars exit at the other. While Ford's famous Rouge Complex is the prime example of this type of plant, it was the exception rather the rule in these earlier days of motorcar manufacture, particularly amongst the independents.
Here we see a parade of car haulers carrying a large number of finished car bodies from one Nash plant to another for final assembly, a system that was much more common in those days. In effect, they were an extension of the production line. GM, Ford and Chrysler often relied on external suppliers like Briggs, Budd, Murray, Fleetwood and Fisher for their bodies and likewise moved these major components from one location to another.
It appears that these are 1941 unitized body cars, which were a first in the industry. You can find another period Nash related post here on The Old Motor and learn more at the Nash Car Club of America.