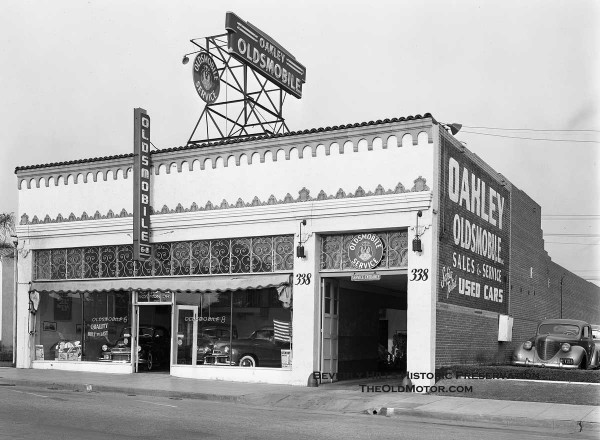 Three lucky buyers got one last chance to put a new car in their garage if they set foot into Oakley Oldsmobile at 338 North Canon Drive when this photo was shot. Say what you will about the styling, there's no denying that these rugged cars were a good choice for getting through the automotive drought of the next four years. You can learn more about the 1942 Olds and see a film about them posted here recently.
Or for a few dollars less, that '38 Chrysler in the used car department and seen just to the right of the building, probably would have provided reliable service too, albeit with a little less pizzazz than it's General Motors cousins.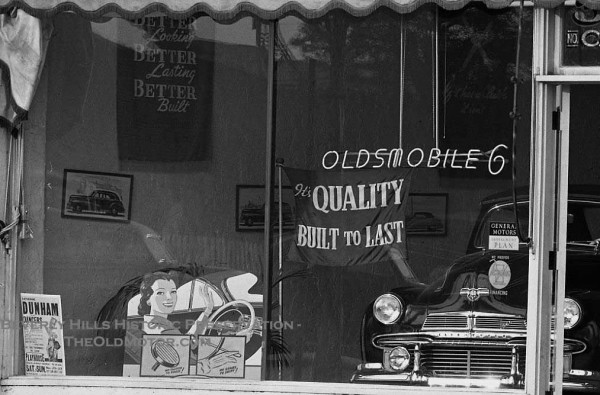 We especially like the signage and architectural details of this small dealership. Granted it's no Don Lee Cadillac or Earle C. Anthony Packard palace, but we think the face they presented to the world was an attractive one. Thanks to reader Edward Fiore for sending us this photo courtesy of Beverly Hills Historic Preservation. You'll find dozens more pages about garages and new and used car dealers  here on The Old Motor.