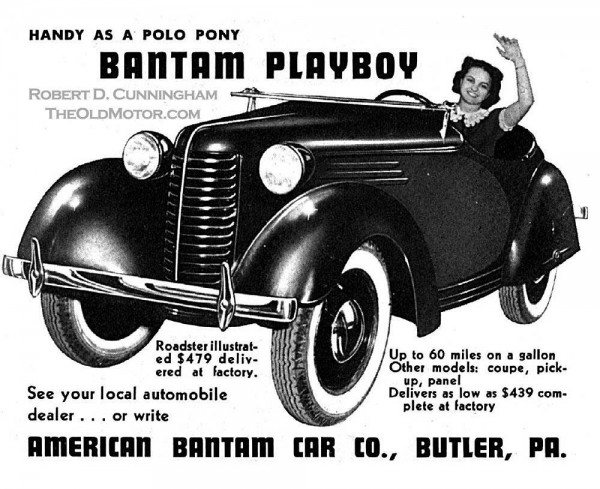 By Robert D. Cunningham:
For a paltry sum of $300, Count Alexis deSahknoffsky updated his original American Austin designs to create the all-new American Bantam, which was advertised as "America's ONLY Economy Car". The 1938 American Automobile Buyers' Guide rated Bantam as the world's most economical car with gasoline consumption of 59.6 miles per gallon. The guide also showed Bantam to be America's lowest priced car, ranging between $439 and $499. The first models consisted of a coupe, roadster, and panel truck with 55 cubic feet of cargo space. Other catalogued and custom body styles quickly followed—18 in all.
The Bantam Boulevard Delivery was a cleverly built panel truck with 35 cubic feet of capacity. Its small panel body was mounted behind an open driver's compartment "to combine the quiet dignity of the Victorian era with the modern lines of the Bantam roadster". Its polished  body gleamed and it's sides were adorned with chromium carriage lamps. Access to the package compartment was through a locking door behind the plush leather seat.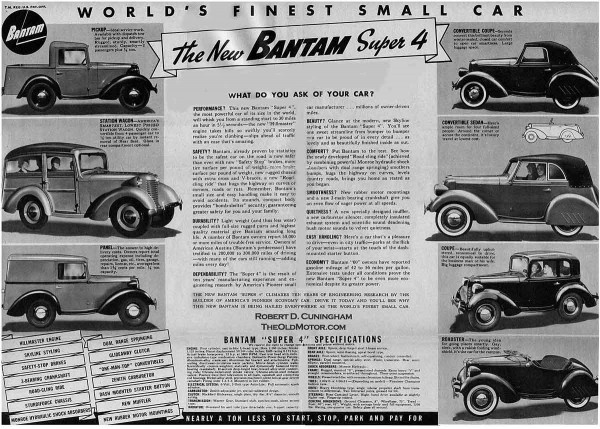 One afternoon, Bantam president Roy Evans instructed workers to cut away the back half of a panel truck roof and remove the body sides above the belt line. The rear portion of the roof was reversed, stood on end behind the seat and welded into place. The clever trick formed the back of a pickup cab. Coca-Cola operated a fleet of Bantam pickups, panels and tractor-trailer trucks. A typical Bantam tractor-trailer rig measured less than 17 feet from front to back. Trailers were built by Trailcar, Inc. of Atlanta, Georgia.
The Pepsi-Cola Company also contracted with Bantam to build a fleet of unique delivery trucks. Each steel delivery body looked like an oversized Pepsi six-pack, complete with aluminum pop bottles. The trucks were designed to carry ten cases, or approximately 60 cartons of soft drink. Pepsi's president said his carton truck averaged 44.5 miles per gallon of fuel.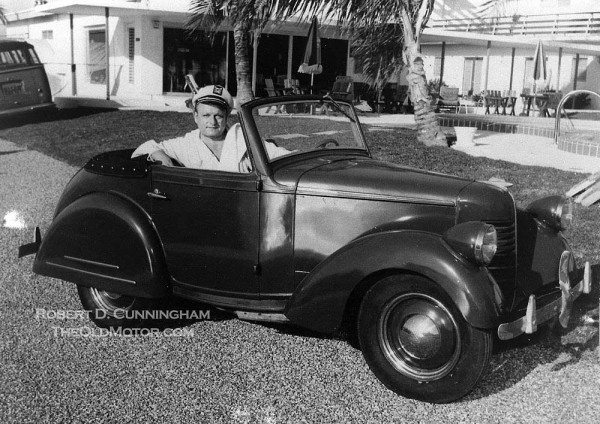 In 1939, former Auburn-Cord-Duesenberg designer Alex Tremulis created a 2-passenger convertible from a Bantam coupe. Evans was impressed, and he immediately put it into production as the Hollywood, along with a 4-passenger version called the Riviera. Soon after, Tremulis presented designs for close-coupled coupes, a phaeton, and a fantastic creation called the Bantam Terra-Cobra, which was equipped with a bubble top patterned after the P-39 Aero-Cobra fighter jet. The supercharged Terra-Cobra would have nearly flown down the highway at speeds of over 100 miles per hour.
But Bantam was on the skids. Sales were dismal and a promising deal to power Silver King tractors had been snatched away by Graham-Paige. On April Fool's Day of 1940, most of Bantam's employees were released. A skeleton crew of 16 men remained to assemble a few wood-bodied station wagons and to develop a small 4-wheel drive car in hopes of landing a government contract. They delivered their BRC (Bantam Reconnaissance Car)  "jeep" prototype in September, followed by 69 round-nosed BRC-60s and 2,605 flat-nosed BRC-40s. Despite their heroic efforts, "jeep" production contracts were awarded to Willys-Overland with assistance from Ford. Bantam received consolation contracts to build amphibious utility trailers, aircraft parts, and torpedoes.
Meanwhile, Evans and the true "car guys" left American Bantam. After the war, the company struggled to find a place in the civilian trailer market until it was absorbed by the Monroe Company, a division of Willys-Overland. Willys directors assumed control and siphoned off the profits. Mismanagement forced the company into receivership and the American Bantam Car Company was dissolved in 1956. You can find Parts I – III of the American Austin Bantam Story here.