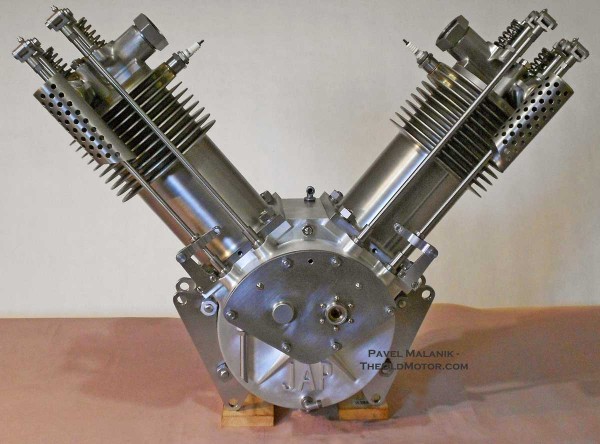 Pavel Malanik has been a very busy man engineering and machining the remaining components for the power plant that will be installed in his 1909 J. A. P. Engined Record Holder recreation since we last visited with him. In Part VI, we have many more construction photos and images of both sides of the completed 165.62 cubic inch (2,714 c.c.) engine.
The timing side of the finished product can be seen above with the drive side can be seen at the bottom of this post. You can follow the machining process of most of the remaining pieces needed to finish off the inside of the engine along with the rocker arms, pushrods and exhaust stacks here in this post.
L to R : Alloy steel being roughed out in the lathe for one of the camshafts. Milling operations to shape the cam lobes. Final finishing of the nose of the cams.


L to R : The finished camshafts, drive gears and cam followers. Finish milling of the inside of the timing cover that was machined from a solid block. Exterior of the timing cover.


L to R : The crankpin half of the flywheel after lightening. The inside of the only non-original type piece on the engine, a clutch that is inserted in the original style drive pulley for safety reasons and easier starting.
  
L to R : Partially machined pieces for the rocker arms and pushrods. The completed rocker arm and pushrod assemblies.


L to R : The rear cylinder. Fabricated exhaust stub assemblies and the front cylinder.
Below we see the drive side of this beautifully crafted engine awaiting it's intake manifold, carburetor, ignition system and a few more details. After Pavel Malanik is finished with the engine, he will start on fabricating the rest of the machine. Check back soon as it has been a very interesting project that we are following through from start to the finish. You can also view the entire series here from the beginning. You can also find over 50 pages of  vintage motorcycle photos here.