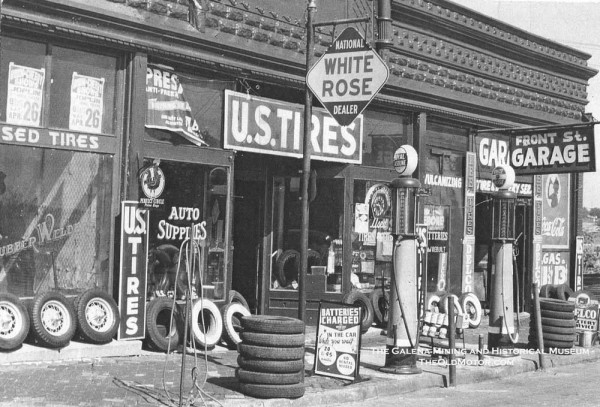 *Update* From Dave Gerold: "Thanks for posting this picture! We were in Galena this summer while on our Model A road trip. The building you posted is still standing but long abandoned. We saw lots of buildings just like this as we made our way across the country. We put on over 9200 miles in our '29 Phaeton…what a trip…smiling every day"!  You can see the photo below and also follow along on the adventure here.
Providing all sorts of aid to travelers on Route 66, it looks like the owner of the Front Street Garage was ready for just about anything in this photo from the 1930′s. The visible type pumps conveniently placed right on the curb must have been a beacon for passing motorists. Tires new and used, vulcanizing, "batteries charged in the car while you wait" and more, all were vital to pilgrims on their journey west. Although the National Refining Company had been based in Cleveland, Ohio, since 1882, the maker of White Rose gasoline operated a refinery in Coffeeville, Kansas, only 60 miles away
And while it appears the building was still there when the tiny town of Galena was mapped by Google, it's looking pretty shabby these days. You can find over a 100 photos of old filling stations  here on The Old Motor and many more about Route 66, too. Photo courtesy of The Galena Mining and Historical Museum and the Kansas Route 66 Association.