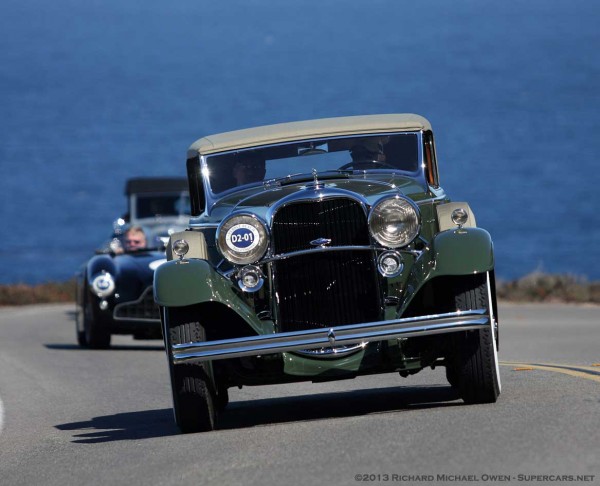 The Lincoln fitted with custom coachwork was one of the featured marques at the recent 2013 Pebble Beach Concours D'Elegance. We are fortunate to be able present to you a mix of superb KB and K models featuring skillfully crafted V-12 engines and the earlier K and L Models, which were fitted with a fine V-8 designed by Henry Leland who started building the Lincoln in 1920. The photos are courtesy of Richard Michael Owen of Supercars.net, a site that covers many automotive events around the world and features exceptional photography.
The Pebble Beach Concours d'Elegance, who, with the help of Lincoln and Lincoln enthusiasts put the impressive display together, had the following to say about the Marque and the gathering: "Ford purchased Lincoln in 1922. Edsel Ford took a marque well known for mechanical excellence and defined it with superior styling and elegant custom coachwork. Long one of America's elite luxury cars, Lincoln served as the official conveyance for presidents from Franklin D. Roosevelt to John F. Kennedy to George W. Bush. The show field will focus on one-off custom-bodied Lincolns".
"Lincoln will be featured at the 63rd Pebble Beach Concours d'Elegance. There will be four full classes of Lincolns with custom coachwork, and each of these Lincolns is rare and unique. The cars will range from truly representative Lincolns such as the extremely elegant and ultra-conservative 1930 Lincoln Model L Judkins Coupe, to the very bold 1955 Lincoln Indianapolis Boano Coupe, a bright orange one-off concept car".
Take a moment to view Richard Michael Owen's other photos of the Lincoln-Zephyr and Continental, along with the postwar Lincoln motorcars fitted with custom coachwork that were also at the Concours.
A video just below by The Motorcar Society takes you on a traveling presentation of many of the fine cars seen on the field. To learn more you can also visit with the various Lincoln Car Clubs.