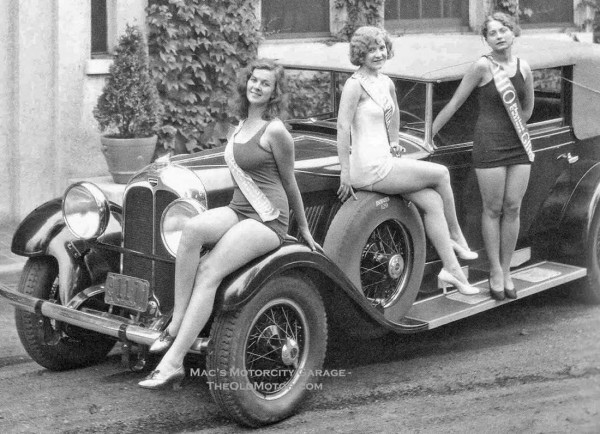 The very stylish 1927 through 1936 Auburn models including the famous Auburn boat-tailed Speedster, which was first introduced in 1928, were favorites back in their time and still are today amongst collectors. The subject of this post is the earlier 1928 through 1930 versions, of which we are treated to a photo of a Phaeton Sedan (above) adorned with three beauty contestants, courtesy of Mac's Motor City Garage.
The Central Manufacturing Co. of Connersville, Indiana built the coachwork for the majority of the closed body styles for the Auburn. They became Errett Lobban Cord's in-house coachbuilders after he acquired a controlling interest in the firm in 1928. The company also created closed bodies for some Cord and Duesenberg models, but we are not certain who built the open car bodywork for the Auburn after the takeover of Central. The Limousine Body Company of Kalamazoo, Michigan and the Union City Body Co. of Union City, Indiana had built the earlier open bodies and may have continued on with the 1928 and later cars.
L to R: Motor Age details on the 1928 Models – The 1929 Cabin Speedster – Motor Age coverage in 1928 of Auburn racing wins. 
Perhaps the most interesting of all was the streamlined Auburn Cabin Speedster (above center) that wore an aluminum body and was propelled by a 120 horsepower, Lycoming straight eight-cylinder engine. The two passenger cockpit featured aircraft-type wicker seats, and it was advertised that the car could reach 100 miles per hour. Sadly this it was lost on March 5, 1929 at the  Los Angeles Auto Show, which is an interesting story in itself.
Just below is a circa 1927 Auburn film that starts out by showing the company's history as a wagon maker and then moves on to an early model of the car. The film then proceeds onto what appears to be the year of 1927 and shows the factory and the production process, both at Auburn and the Lycoming Engine Co. The 33 minute film is damaged and dark in places, but is well worth watching to see some of the rare and interesting footage.