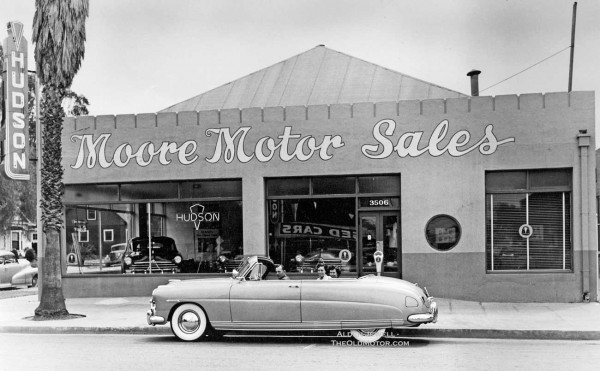 Studebaker might have made the claim that they were "First By Far With a Postwar Car" in 1947, but they didn't offer very much that was innovative under their radical Virgil Exner-styled body. It was left to another independent builder, Hudson, to start a major trend towards longer, lower and wider cars in the following year that would persist well into the next decade. Aside from the obvious styling appeal, their "step-down" design provided a lower center of gravity that resulted in better handling than their competitors.
First, By Far with a Postwar Car
First, By Far with a Postwar Car
The handsome 1950 convertible in our top photo today was posed at 3506 Main Street in Riverside and we can't think of many better ways to have enjoyed top down motoring in sunny southern California back then. You'll find many more pages of Hudson related   material on The Old Motor. The Hudson-Essex-Terraplane Club is an enthusiastic group dedicated to the preservation of those makes. Moore Motor Sales photo courtesy of Alden Jewell.