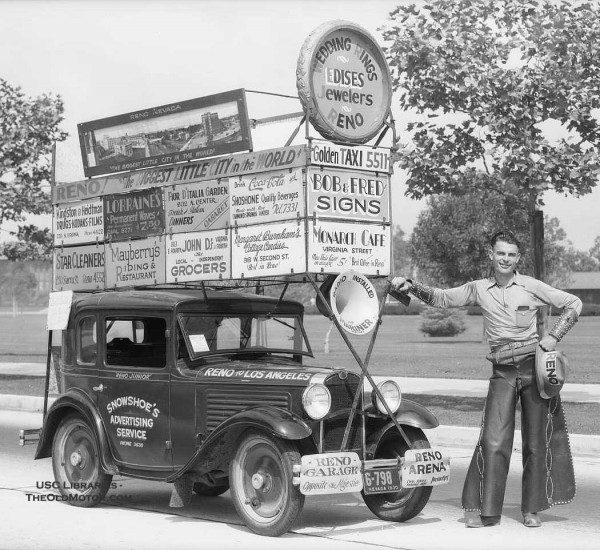 The advertising car has been on the roads and streets of the America for many years and may have originated quite early in the realm of motoring. Today the bright vinyl advertising that you see covering automobiles is referred to as ad-wrapping, but it appears these modern efforts could take a lesson or two from Reno Junior and his cute little car.
The little American Austin Bantam he drove had an iron rack that was welded together and included some blacksmithing work at the very top, which was used to hold the round Edises Jewelers sign. Just below it and the taxi sign is one by Bob & Fred Signs whom we assume lettered the rest of them. It appears to have been equipped with either a PA system, or a radio so that Reno Junior could gather even more attention, its horn is lettered as having been installed by Mariner in Reno.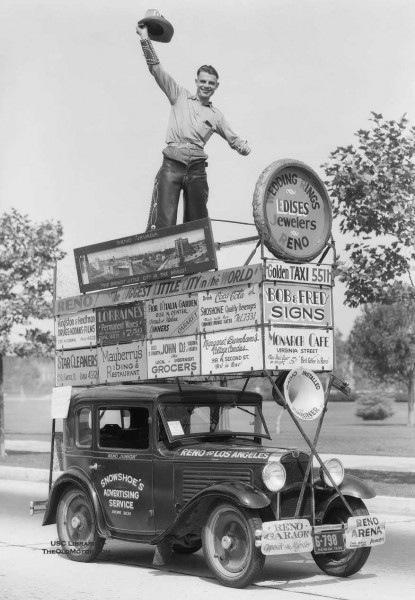 The Dick Whittington Studio in Los Angeles took the photos during 1930, and the invoice for them was made out to Austin of Los Angeles. The sticker on the windshield is a non-resident permit from the State of California, so it is possible that he used this car to drive back and forth between the two cities; note the Reno to Los Angeles lettering on the hood. You can learn the interesting American Austin Bantam Story here on The Old Motor. The photos are courtesy of the USC Libraries.