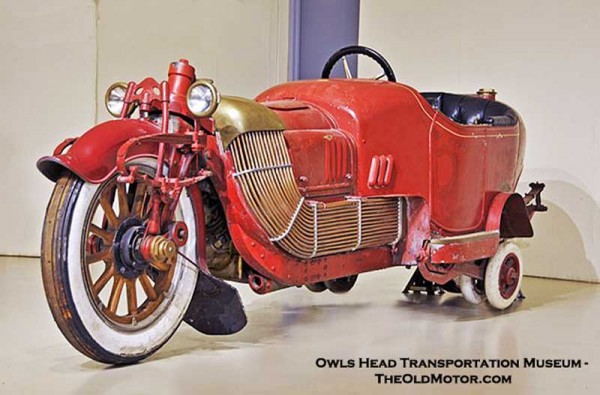 Over one hundred years ago the course of the automobile had been fairly well charted out, but this did not discourage free-thinking individuals like James Scripps Booth who would continue to design new variations of mobile transport. And he could well afford to do so as he was an heir to the Booth family fortune that had originated from publishing the Detroit Evening News. Born and raised in the Motor City, he was educated in private schools and also developed his artistic abilities.
Booth also had a keen interest in mechanical engineering and automobile design, which led to him laying out the Biautogo sketches in Paris, France around 1910, while studying art there for a time. He did not intend to turn it into a production vehicle, but rather to use it as an engineering study and for promotional purposes at the 1912 New York Auto Show.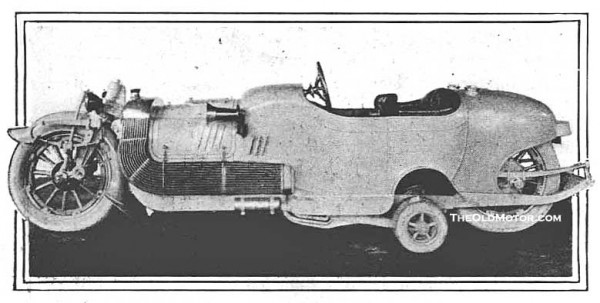 The project was not completed in time for the New York show, but it was soon finished and featured in an article in The Automobile, in 1913. And what a vehicle it was – the aluminum-bodied machine was powered by the first V-8 built in Detroit, a 332 ci. Scripps-Booth engine that produced 45 hp. A steering wheel and shaft actuated the springer type of front fork by the use of a chain and bevel gears. The chain-driven rear wheel was suspended by parallel semi-elliptic springs. It rode on large 37 x 5.5-inch tires and a long 140-inch wheelbase.

One would assume that a vehicle of this type would be stabilized at low speeds by a powered-gyroscope, but instead Booth fitted drop-down balance-wheels for that purpose. It has been reported that above twenty mph the front and rear wheels would keep it upright by the same principals used for the bicycle. Other features were: a four-speed transmission, an air starter, a very distinctive surface-mounted radiator of copper tubing, and seating for three passengers.
Full details of this of this unusual vehicle are in a two-page article that can be seen above, which was featured in the August 28, 1913, issue of The Automobile. You can also learn about the JB Rocket Cyclecar produced by Booth and covered here earlier on The Old Motor and the later Scripps-Booth Car here.
In person, the BiAutogo is a genuine delight to see, and you can do just that by visiting with the Owls Head Transportation Museum, in Owls Head, Maine. At the museum, you will find one of the most diverse collections (a small sampling is above) of primarily pre-1920 automobiles, aircraft, motorcycles, stationary engines and bicycles in the country. You can visit with them here at the Owls Head Transportation Museum.