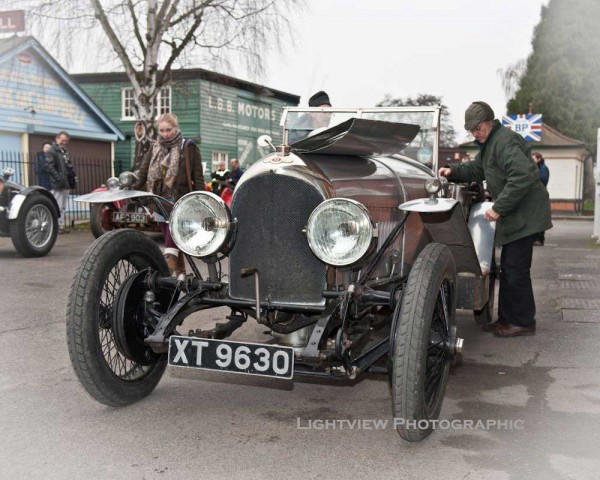 These photographs are all courtesy of photographer Stuart Matthews of  the Lightview Photographic Company Ltd. located in the village of Martley in Worcester, England.
The photos show entrants at the recent VSCC New Years Driving Tests which were held at the famed Brooklands Race Track. The photo above shows a vintage Bentley being readied for competition. Below, left to right in the driving tests held on a portion of the remaining track banking are; What appears to be a Austin Special, a Grafton cyclecar, a Bugatti and a Riley.
This type of event that the club holds, is more of a test of driver and machine in a low- speed course, focused on precise maneuvering and driving skill. It the past we have shown you, VSCC Trials which are an off road type of competition.
Just below is a video showing the 2011 Brooklands Double Twelve pit stop competition on the Finishing Straight. The film will give you a better idea of what these Driving Tests involve. The first car put through it's paces appears to be the Bugatti pictured above. Take the time to watch the whole film as you will see and hear some quite rare vintage machinery in action including one with a malfunctioning reverse gear.