The car you can see in action above in a Universal Newsreel on the streets in the Los Angeles area has fascinated us for quite some time. Critical Past has it dated as having been filmed on February 6, 1935 and in the notes referenced it as being a Stout Scarab. The basic makeup is quite a bit different than one, and we are skeptical of it being a William Stout creation.
Take a few moments to watch the amazingly clear footage of it traveling down one the palm tree-lined boulevards in the area, along with other cars, some that date to the mid-1930s. The news clip is courtesy of Critical Past, which has one of the largest archival film and still images collections in the world.
* Update * Robert Cunningham has unraveled the mystery and has found that the car was built by Allyn Streur and Allen Hoppe, of Hollywood, California. A press photo that has survived is dated February 4, 1935, and shows the pair posing in the car. It appears that it was constructed from a late 1920s lightweight production chassis.
In an effort to learn more about this car, a considerable amount of time has been spent studying photos of the other streamliners that were current at the time. After studying the photos, drawings and patents of  the others, we have come up with a short list of who may have designed the car in the news clip. It appears to be either Harry A. Miller or Professor Elliott G. Reid.
The closest match appears to be the drawing above by Leo W. Goossen for Harry A. Miller. The rear-engined car was slated to receive either a 220 c.i.d. Miller, or a radial engine. You can view more of historian Gordon White's drawings by Goossen of the car at Autoweek, in an article by Graham Kozak, which gives more details about the concept. The actual car in the film was fitted with what appears to have been a common flathead six-cylinder engine.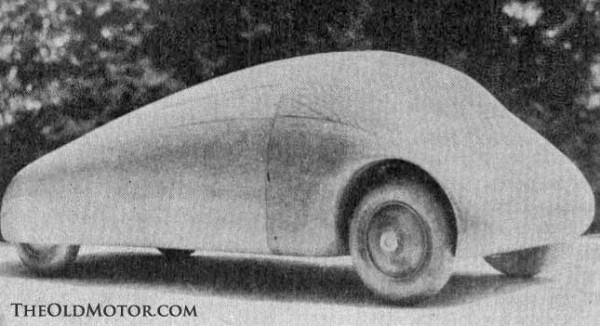 Above is a photo of a car with as similar shape from the December 12, 1935, Automotive Industries. Shown is a wooden model of a whale-shaped car designed by Professor Elliott G. Reid for wind tunnel experiments. His research lead him to determine that this shape had better streamlining characteristics than the commonly used tear drop shape. You can view one of his late 1930s patents and drawings for a Packard Streamliner that he assigned to the Company.
If you can add anything to this story or know of any actual photos of the car in the film, or more information about it, please send us a comment. Thanks to historian Robert Cunningham for his help.