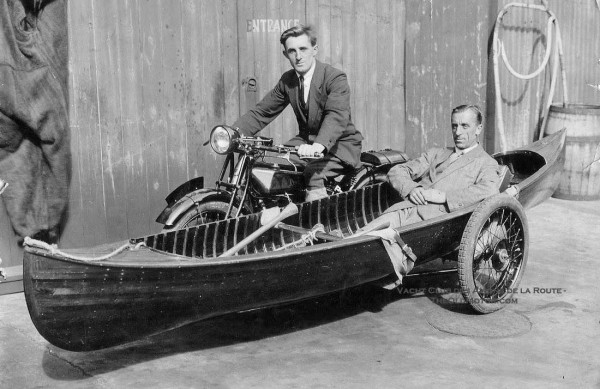 The endless creativity of the pioneers of motor transportation and the variety of their creations are what keep things interesting for us here at The Old Motor. It has been our "mission", so to speak, to bring you interesting images and provide some historical information about them. But every now and then we come across photos of things that are great fun but so far out of the box that we can't find out much about them. Such is the case today, so we invite you to join in with any information you might have about these unconventional machines.
To our eyes, the most practical of this group is the motorcycle/canoe combination in the our top photo. The starboard placement of the bike makes us think that it's probably from the U.K., but as to the make, please tell us. The SIMO trike in our first thumbnail is a complete mystery to us. The caption on the second photo said that it's The Grand Duke Alexis of Russia's landau being drawn by a Heilmann electric tractor, c.1898.
If that's correct, it makes us wonder if it's the same Heilmann responsible for these unusual machines. And it seems that the curious 1926 Peugeot boat-car in our last image was not amphibious but was designed to promote the company's newly formed marine engine division, Peugeot Maritime. You'll find more uncommon subjects covered on The Old Motor. Today's photos courtesy of the Yacht club des Avions de la Route.