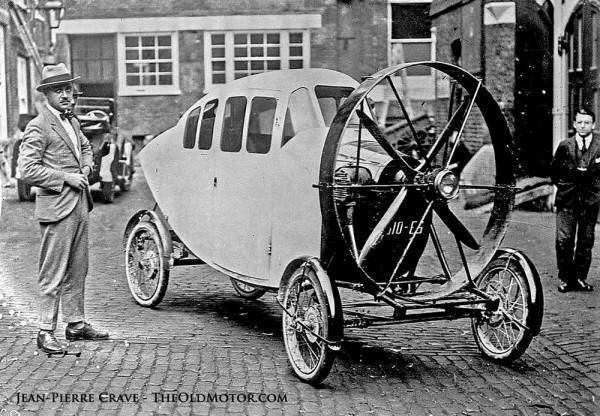 Thanks to a number friends that we have made in Europe, today we present you with three automobiles that are a bit of the beaten track. Little is known about any of them so if you can fill in any of the details about these vehicles please send us a comment.
The propellor-driven car above is thought to be a late French Helica that may have been made after the manufacture of the cars had been transferred from Marcel Leyat to some other entity. Learn much more about the interesting cars referred to as The Plane Without Wings and see a video of a Helica in action.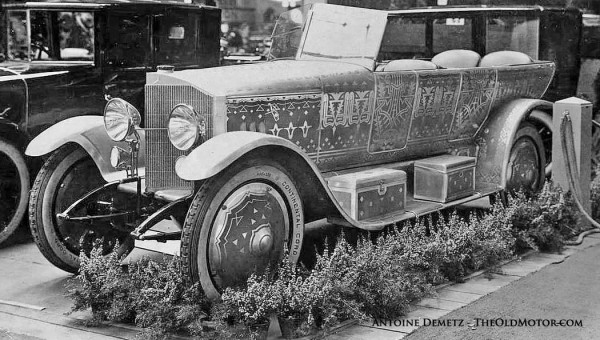 The Mercedes seen above with the unusual applied design work on its coachwork and wheels appears to be at an automotive salon of some sort in the teens'. We are hoping that with such a distinctive appearance it will not have been forgotten and one of our readers will be able to tell us more about it. You can view a number of exquisite 37/90 Mercedes cars here.
The Royal Ediswan product mobile below appears to have been built on a Model TT Ford Truck chassis. The Edison Swan Electric Co. Ltd. was located in Ponders End, Middlesex, England and manufactured and sold a full line of all types of electrical devices in addition to Fullolite Lamps. All photos are courtesy of our friends at Yacht club des Avions de la Route.