Elie Aghnides was a brilliant inventor-engineer, who was able to view an existing piece of equipment or design and built a better mouse trap. The idea behind the 1954 Rhino was born in 1940 while he was watching a bulldozer hard at work at Central Park in NYC.
Aghnides made his fortune on an aerator water faucet attachment that he invented, and patented. He thought that the crawler tractor wasted a large amount of power and went on to design a better solution. The vehicle was finally built 14-years later and incorporated the best features of not only the track but also that of the wheel.
The lead photo shows the Rhino scooting down the road, as it was capable of 45 m.p.h. "Life 

Magazine" photo by Jon Domins.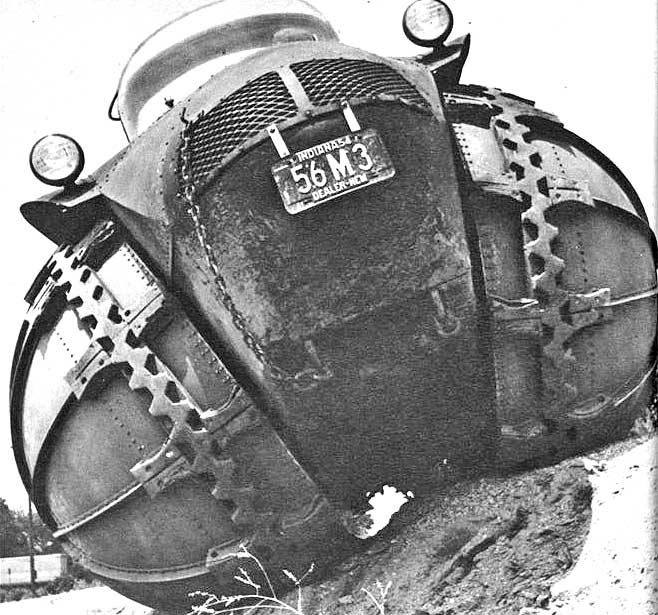 The front of the Rhino shows its domed shaped sectional metal wheels and gripping segments. For road use rubber treads where attached. Courtesy "Modern 

Mechanics."
When finished this unorthodox machine was able to travel at up to 45 m.p.h. on the road. It was also fully capable of plowing through swamps, mud, snow, uneven terrain, wooded areas and even the water.
The 10,000-pound creation was powered by an 110 h.p. Ford industrial engine and a heavy-duty drivetrain. Due to a low center of gravity and its unique wheel design, it was very stable and would not tip over even at 75-degree angle. The hollow wheels acted as flotation devices and in water it was propelled by a steerable Kermath marine Hydrojet. The device's nozzle can be seen at the center of the rear axle. One of the two experimental machines that were built has survived.
The original 1954 film footage on this video was taken at and near the Marmon-Herrington factory in Indianapolis, Indiana where the Rhino was built. View the intriguing presentation and witness the monster as it is being put through its paces on the road, rough terrain, woods, sand, mud and in the water.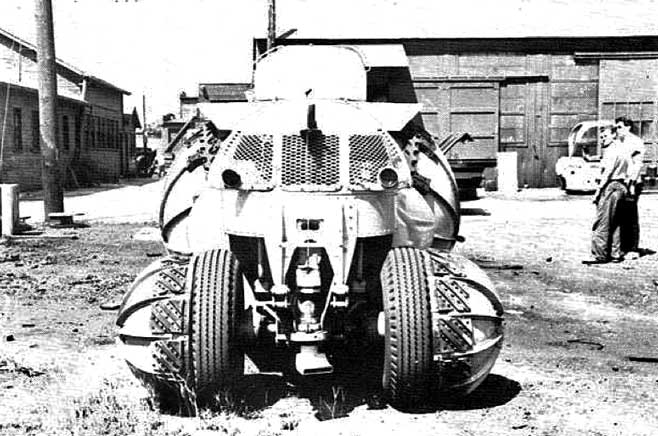 This image of the rear of the Rhino from "Wheels and Tracks," shows the rear 

tires and the nozzle below the rear axle for the Kermath marine Hydrojet that propelled it in water.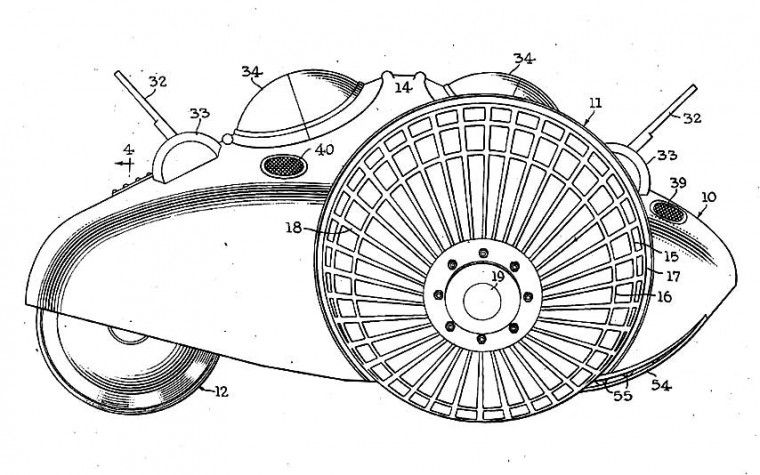 "Vehicle with Inclined Hemispherodal Wheels" – Patent filed June 19, 1953 and granted Nov. 5, 1957  shows a similar earlier design with close-mounted double rear wheels that pivoted in the center.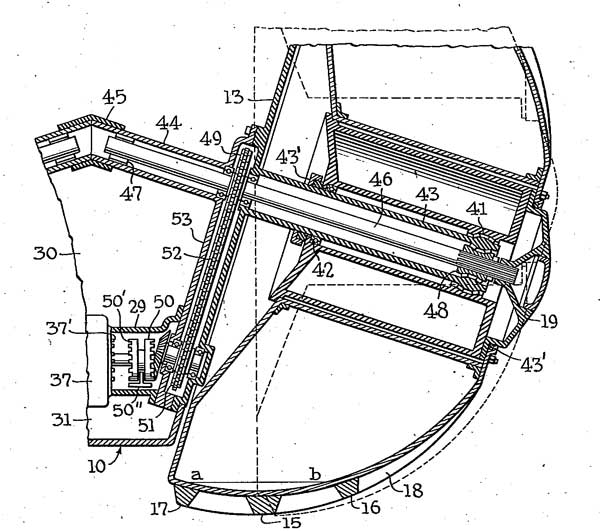 Nov. 5, 1957 p

atent drawing showing the "Inclined Hemispherodal Wheels"