Smith Hempstone Oliver was an early collector, antique automobile enthusiast, and photographer, who later was appointed the Curator of Transportation at the Smithsonian Institute. In the early-1930s, he was in the Navy stationed at the Naval Yard, in Brooklyn, New York, and went out on regular excursions with his Stutz Bearcat looking for old and interesting cars.
At the time, Smith discovered on Carlton Avenue in Brooklyn this imposing early to-mid-1920s, white Locomobile Model 48 owned by a man named "Kid" Hawkins and photographed it front of the John Bene & Sons Inc. Manufacturing Chemists building. It was retrofitted with glass hood sides giving a clear view of the impressive Loco 525 c.i.d. T-head engine with high-strength manganese bronze crankcases.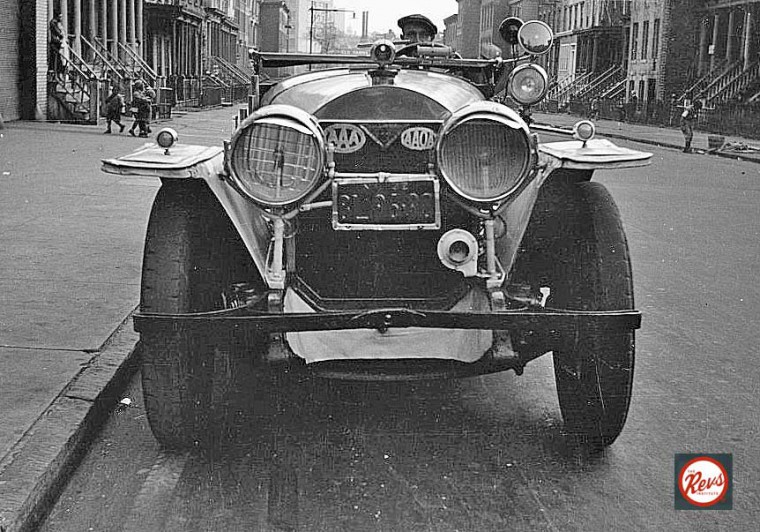 The front view of the Model 48 Locomobile show what appears to be Bausch and Lomb headlamps.
The complete story of Oliver's discovery of this car in 1932 can be found in one of the 1962 issues of the VMCCA "Bulb Horn". The catalog illustration below from the Custom Body section in a 1921 Locomobile sales book in our archives shows a similar "Four Passenger Roadster" with a rumble seat.
Hawkins' car only shows one running board toolbox and a flat rear deck, but actual custom-bodied cars were available with two different styles of fenders and all that have survived all have slight variations from the artist's renderings in the catalogs. A "Gunboat Roadster" was also offered that shared the same lines. One-off bodies were also available from several coachbuilders as was a bare chassis allowing the customer to have it bodied by whatever firm they choice.
The images from the Smith Hempstone Oliver Collection are courtesy of The Revs Institute Research Library.
1921 Locomobile Model 48 catalog illustration of the custom-built "Four Passenger Roadster."