To finish out the week here we have a pair of unique images of high-performance early automobiles parked on a street in different locations. The lead photo contains an impressive American Underslung "Traveler" on the left and a large and powerful Thomas-Flyer "6-70" roadster or "speedster" parked out in front of the Upham Gas Co. Both of the vehicles were owned by family members who owned and operated the Company.
The American appears to be as delivered when new, although the "6-70" Thomas looks like a "Hell Bent for Leather" semi-stripped down high-speed road car. It is equipped with a Cambridge windshield, and side curtains to keep the blast of cold winter of air off of both the driver and passenger at speed. A bearskin coat and hat, along with a face mask, goggles and heavy gloves were also necessary to keep the occupants from turning into a block of ice while underway.
Learn more about the "6-70" Thomas and the American Underslung "Traveler" in our earlier coverage.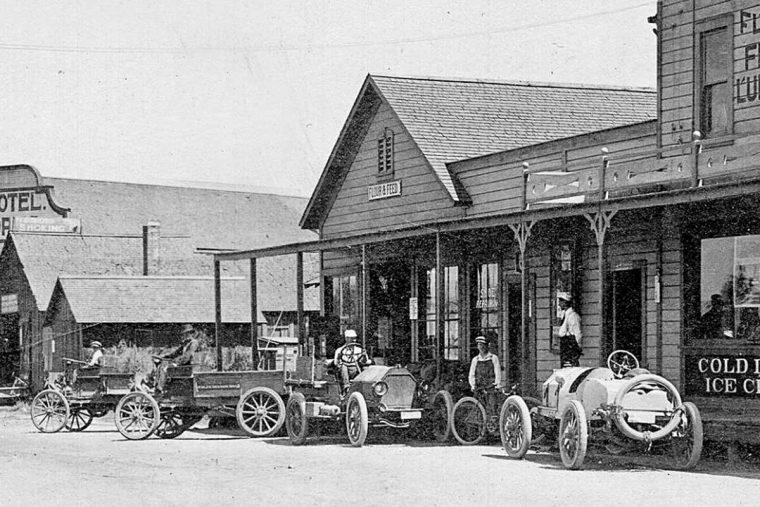 This second circa 1910-'15 photo was taken in the center of Cotati, CA, "The Hub of Sonoma County" located forty miles north of San Francisco. Left-to-right are a pair of "high wheeler" trucks, what apparently is an automobile converted into a light truck, and what at first glance appears to be a 1911 to '14 Mercer "Raceabout".
If this car is actually a Mercer it is a converted 1911 to'14 touring car or 1914 roadster as the chassis has three-quarter elliptic rear springs as opposed to the "Raceabout" which is equipped with semi-ecliptics. What is more likely the case is this machine was a conventional thirty or forty h.p. car produced by another automaker converted into a "speedster."
Share with us what you find of interest in these photographs courtesy of the Michael J. Semas Collection.