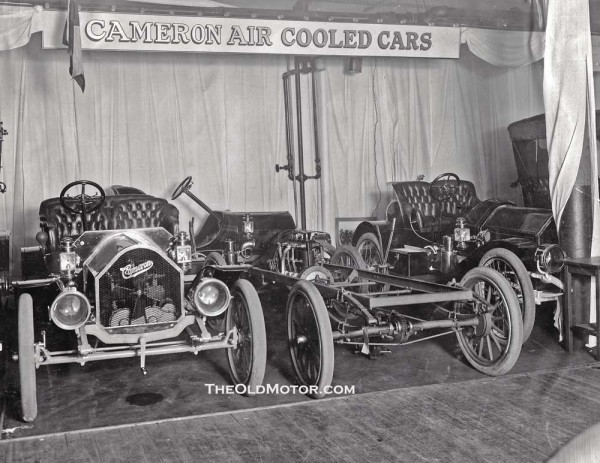 The Cameron car was was built between the years of 1903 and 1920 and during its production span, the car was produced in Rhode Island, Massachusetts, Connecticut, Michigan and finally in Ohio. Everett and Forrest Cameron first produced a steamer, but then soon moved to having the first air-cooled gasoline car (below left), produced by the James W. Brown Company, of Pawtucket, R.I., an experienced manufacturer of textile machinery.
Two and three cylinder cars were added between 1904 and 1906 and the Cameron cars soon became a success in competition events. In 1906 the Brown Company changed hands and the Cameron's then moved the operations  to Brockton, MA., were they had built racing bicycles earlier. In 1907 they built the first four-cylinder car with two very unique features.
The Cameron Brothers equipped the new four with a unique two-valve, two-cam, double walking-beam engine  seen (below). In addition to this, the innovative pair also designed a combination rear axle-transmission (also shown below), along with a torque tube and ring and pinion gearing, that transmitted power to a spur-gear transmission-differential.
While it was a small car, the Cameron Brothers innovative thinking and features added up to a car that had very good performance and went on to many racing wins in the U.S., at the famed Brooklands track in England and also in South Africa. In a future post we will show some of the companies other interesting racing and road cars.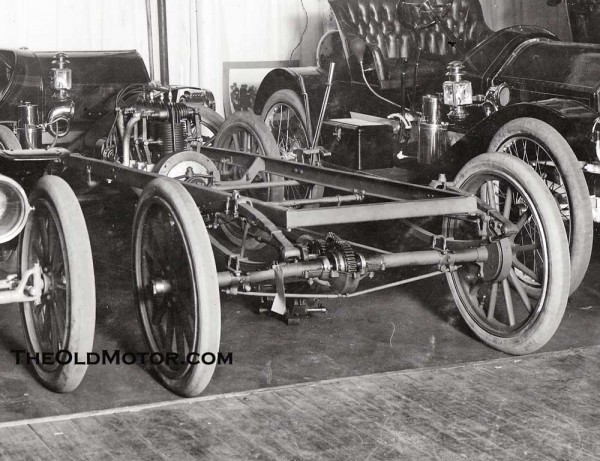 The photos of the Cameron which was built in Connecticut for a time, are courtesy of  the collection of Mark Johnson, from the Klingberg Family Center, which hosts the annual Klingberg Motorcar Festival as a benefit event on Fathers Day weekend. Please support them if at all possible and be sure to attend next years show in New Britain, CT.